Whether you're working remotely, trying to connect with students off-campus, or want to re-engage with job-seeking alumni, GradLeaders Connect makes it easy to streamline virtual advising, career fairs, events and interviews with: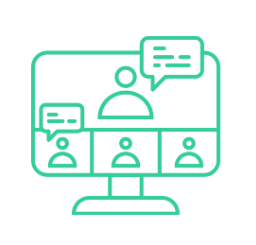 Fully-embedded live video solutions for 1-to-1 or group meetings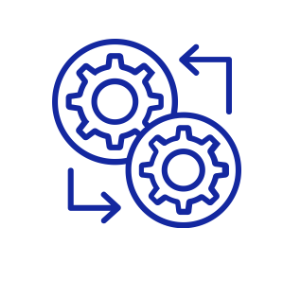 Easily integrate with multiple 3rd-party technologies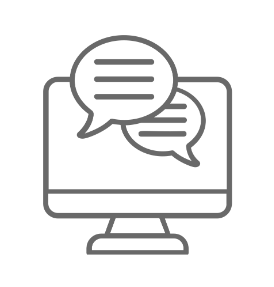 Live chat for in-app messaging between students, alumni, advisors, and more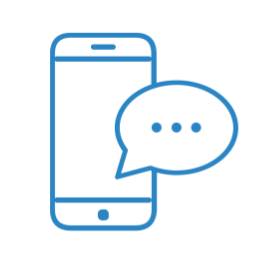 Mobile UI and SMS texting to connect with users on their mobile devices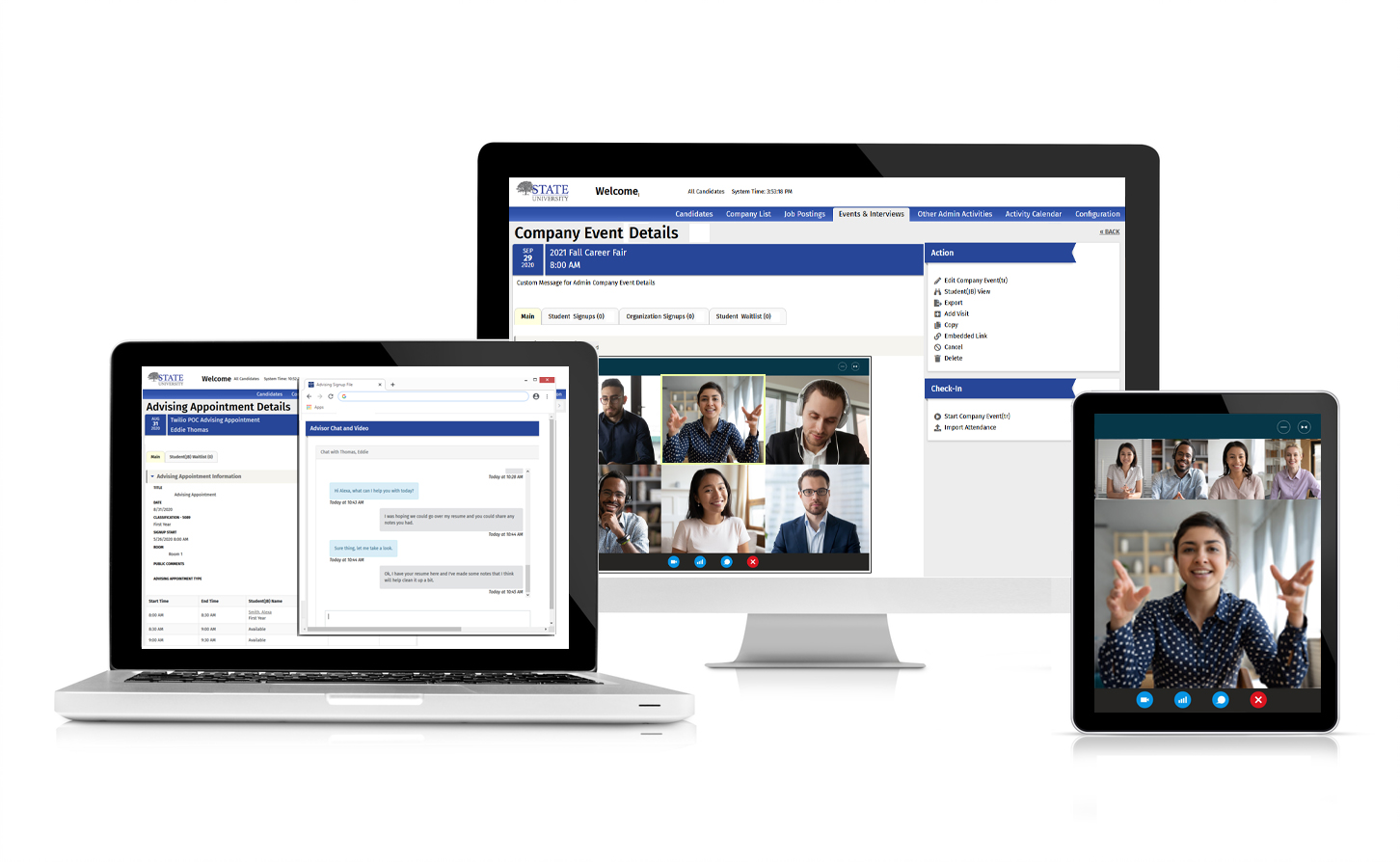 ---
"GradLeaders new fully-embedded video solutions are incredible! Can't wait to use it for other virtual meetings and events!"

— Kelly Crispell, Recruiting Manager, Cornell University, Samuel Curtis Johnson Graduate School of Management
---
Virtual Solutions Built Specifically for Career Centers, Students, and Employers
Managing the logistics of having multiple employers or coaches virtually connect with multiple students at the same time can be difficult. And hybrid events present all new problems. But not with GradLeaders Connect! Our new fully-embedded solutions within GradLeaders Career Center – along with the ability to use existing video meeting technology – make it easy to create, promote, manage, host, and track student attendance throughout the career development process.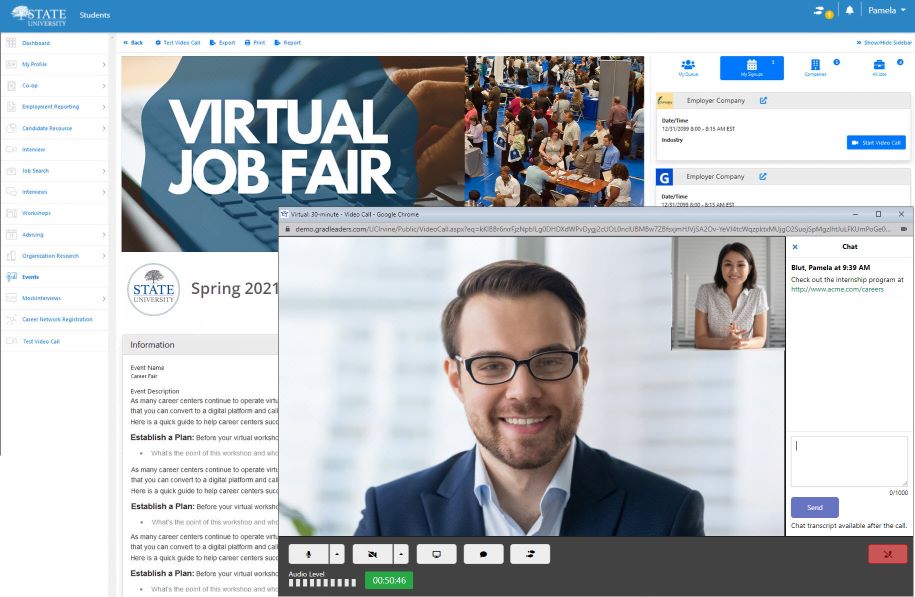 Virtual Career Fairs
With GradLeaders virtual career fair 2.0 solution:
Employers can setup a company-branded booth with logo, jobs, internships, and other company information
Students can favorite companies and apply to opportunities prior to the event
Built-in communication tools make it easy to broadcast announcements to all participants
Students can queue for multiple booths at once or signup for fixed timeslots
Recruiters can view a candidate resume before admitting the candidate to the booth
Recruiters can also capture notes or shortlist a candidate at any time during the career fair
Users can communicate via video, audio or live chat during the event
Users can not only meet 1-on-1 but also participate in 1-to-many video meetings
Dynamic "wait times" automatically update based on actual average time spent with each candidate
Reminders automatically sent to candidates' phones when they're "next in line" and "ready to meet"
Career centers see real-time views of student and company engagement during event plus track employment outcomes to specific events
---
Virtual Employer Presentations and Company Events
With GradLeaders virtual recruiting and event solutions:
Schools can simultaneously host virtual company presentations, networking events, info sessions, and more
Employers can sign up for a "booth" and meet with students at specific times that work best for them
Students have a virtual tool to search for companies of interest and sign into video meetings
Employers can use your secure, school-branded video solution or their own existing solution
Students simply click the same "Start Video" button no matter what technology is being used
Employers can share their screens and present to multiple students at once
Users have the flexibility to use their computer webcams or mobile device for video chat
Schools can easily track engagement activity and compare to other data points in their system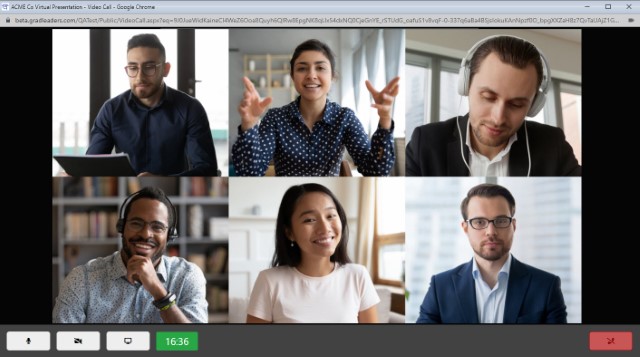 ---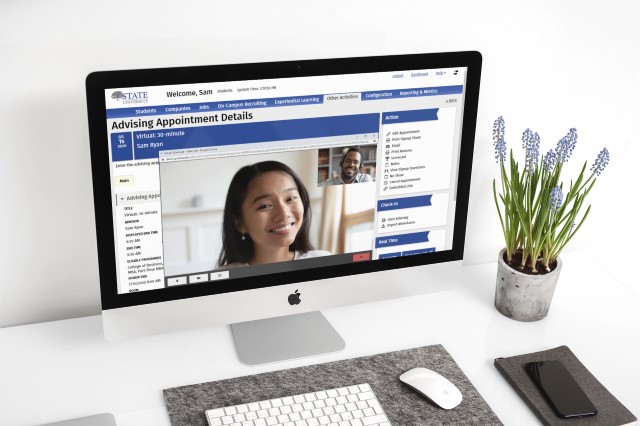 Live Video Interviews and Virtual Mock Interviews
With GradLeaders virtual interview technology:
Schools can simplify the virtual interview process between employers+students
Schools can also host mock interviews between coaches+students
Users can virtually chat and share messages during online meetings
Students can sign up for a specific timeslot or join waitlists
Employers can invite specific students to virtual interviews.
Employers can also use their own virtual meeting tools embedded within the interview details
---
Virtual Coaching, Workshops and Peer Advising
With GradLeaders virtual career services solutions:
Students choose from available times and topics from any mobile device
Advisors create and manage own blocks of appointments
Students receive automatic email and text/SMS reminders
Integrate with personal calendars to keep track of appointments and manage conflicts
Advisor/mentor and student simply sign in to career center platform to join video meeting
Users can share screen to assist in resume, cover letter, job, or offer review process
Admin dashboard highlights at-a-glance metrics reporting on advising activity and student engagement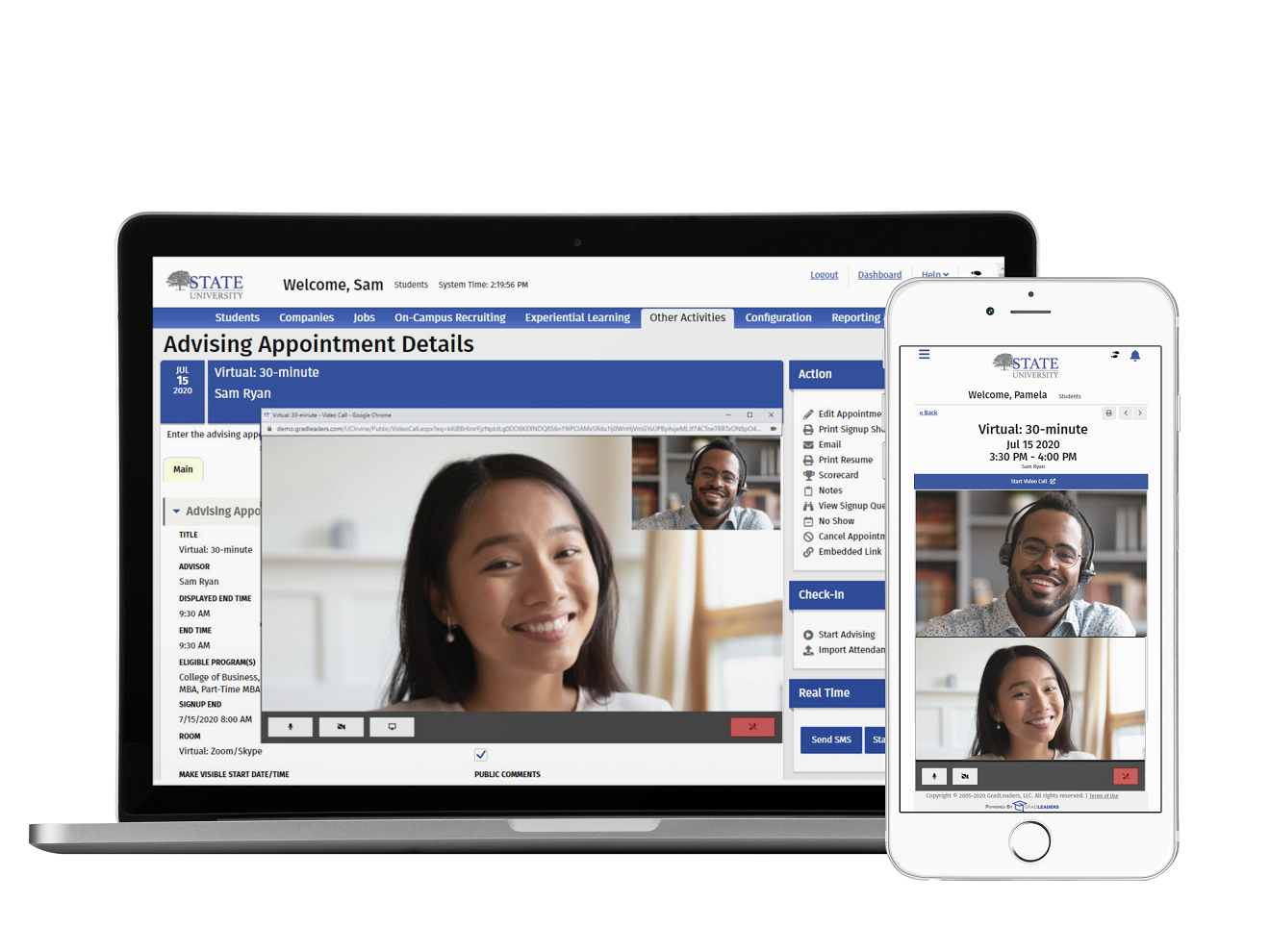 ---
Why GradLeaders?
Utilize Our Fully-Embedded Solution or Your Existing Video Meeting Tools
Our new virtual solutions make it easy for everyone to use, no matter the virtual platform or device. While other vendors are just providing links to Zoom, Skype, Teams, etc. within their platform, our solution is built right into GradLeaders. If a company wants to use their existing technology, they can still do that too! But with the GradLeaders solution, you've got everyone interacting with the same secure, school-branded platform built specifically for career services and student recruitment. Plus it's the same tool students and employers are already using to post/search jobs, sign up for advising, register for career fairs — eliminating the hassle of multiple technologies and multiple platforms.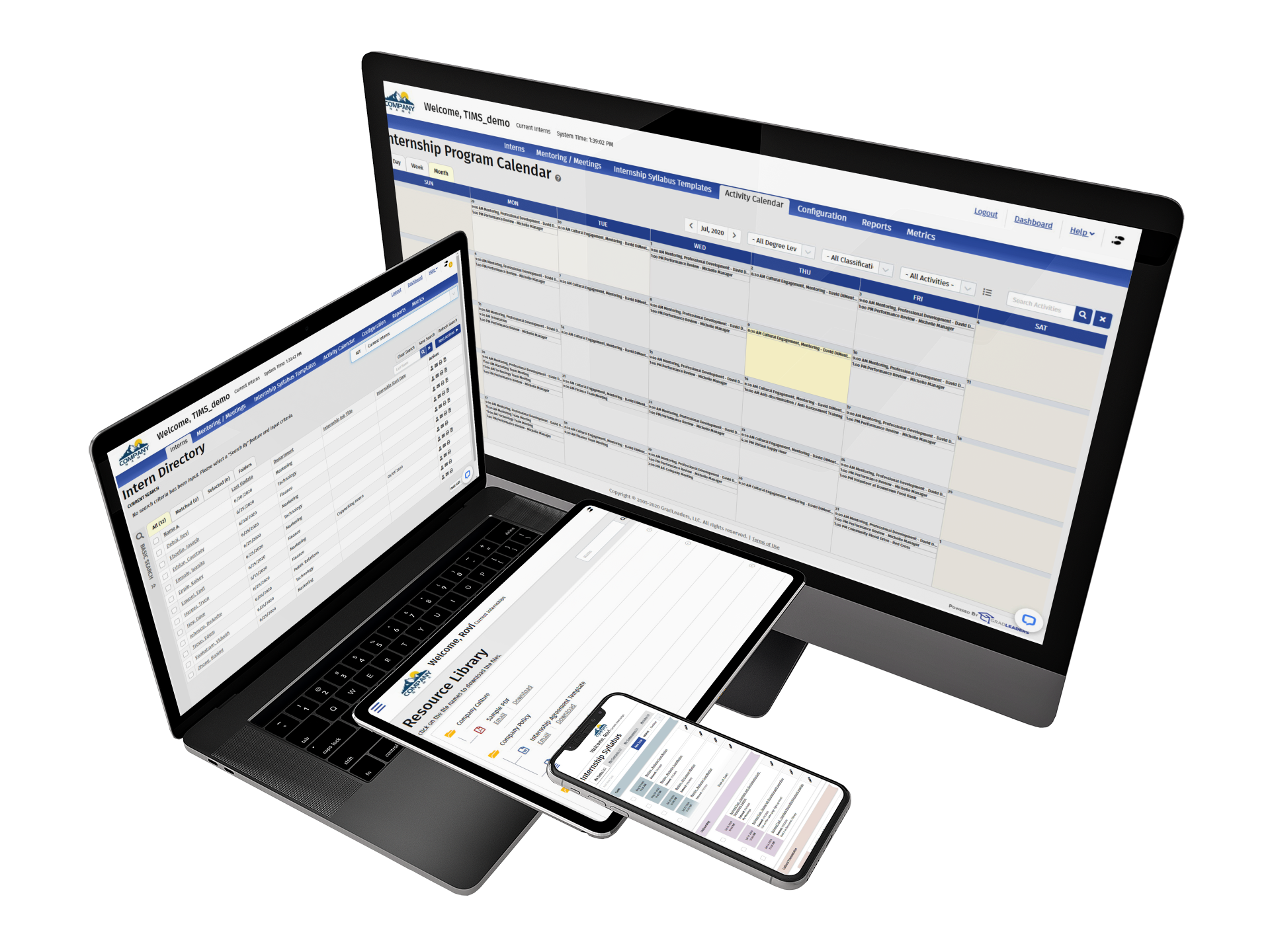 Looking for an easy way to host a virtual career fair, company presentation or workshop this year? Want to simplify virtual advising and online career service management? Whether used as part of our complete career services platform or as a stand-alone module, GradLeaders Connect makes it easy for everyone involved. We'd love to not only show you a demo and share best practices we learned from our school partners' virtual events last year.
---
Request a demo or more information