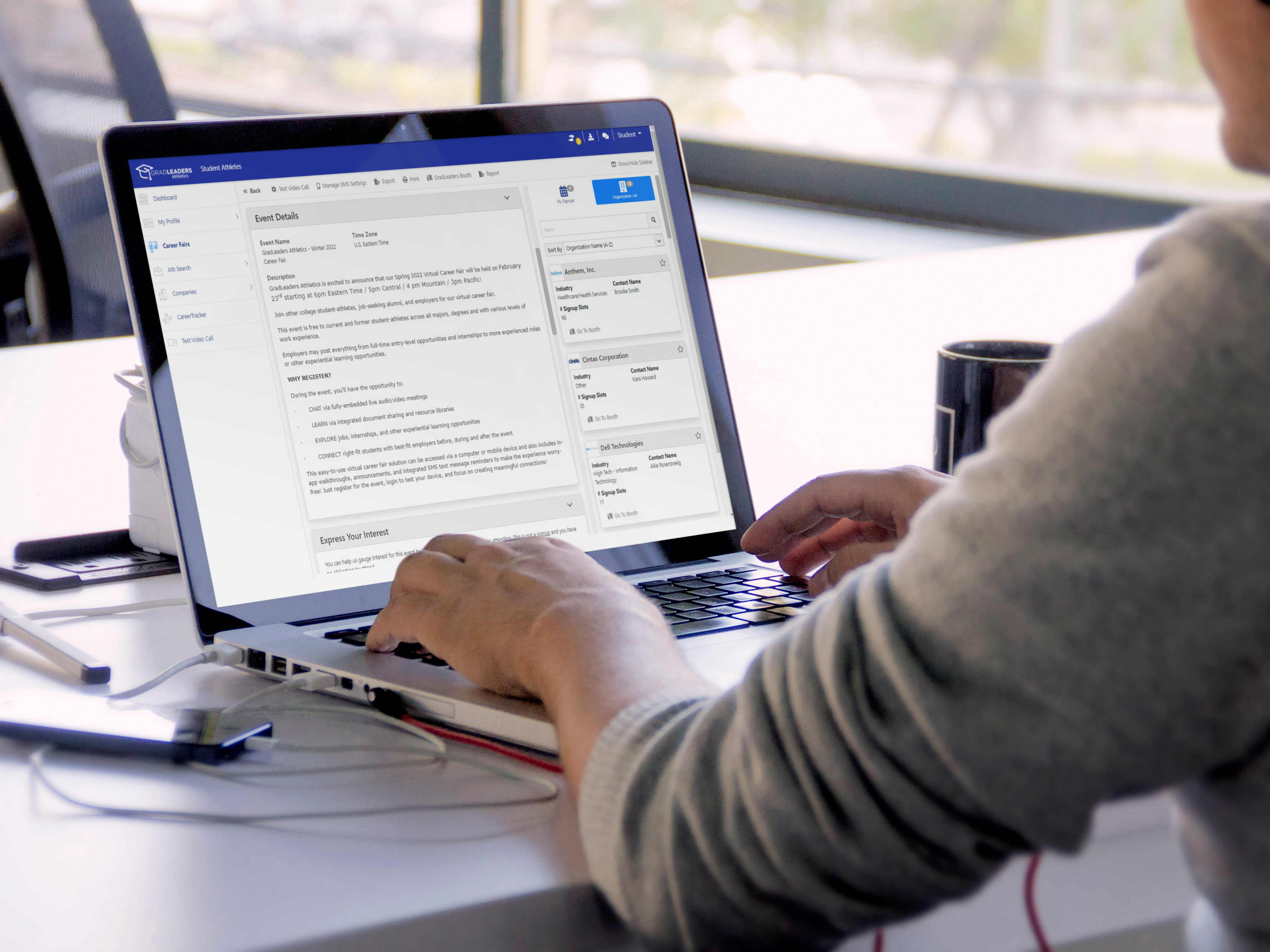 Whether you are attending your first virtual career fair or your tenth, it can be nerve-racking. There are a few things you can do to prepare before a virtual career fair that can help those nerves go away.
Become familiar with the company.
There are multiple ways to become informed about a company. Some employers offer information sessions. These sessions are a fantastic way to get a base on the company. You are also likely to be able to ask employees any questions you may have about the company. Another way to become familiar is to find their website. Every company has a website and many have career-related webpages. Their website may include things such as their products, community service events they are participating in, and their employees. Another way is search YouTube. Some companies create videos explaining their products/services, a day-in-the-life-of an intern/employee, or other events that they are participating in.
Become familiar with the recruiters.
If the company provides the name of the recruiter, it can be beneficial to do your research on that person. Find out who they are, what job(s) they have had in their past and how long they have worked with the company. By doing this research, it will help you feel more comfortable knowing a little bit about the recruiter you will be talking to compared to as if you had not.
Create a professional setting.
Find a quiet location where you can attend the virtual career fair. If you know your roommates or parents make you nervous or are loud, go to a different place where you can feel comfortable. Examples would include a library or a study room. Make sure you arrive at your designated place with plenty of time to spare in case you must relocate or have internet access problems. It may be a clever idea to go to that place to ensure the room is soundproof and well-lit so that recruiters can see you.
Make sure your camera and microphone work.
The most important aspect of a virtual career fair is a working camera and microphone. To ensure they work, you could test call a friend and make sure the volume and sound both works. Also, make sure your camera angle is professional. If you are using a laptop and it is on a desk, it is likely that the camera is too low. You want your camera to be eye-level. If your laptop is too low, you can easily fix this by stacking your laptop on top of some books.
Match your resume to the position.
If you have had multiple work experiences, you will want to include the most related experiences on your resume to the position you are applying for. By tailoring your resume to the position you are applying to, you will be showing how you are a good fit for the job and are increasing your chances of being hired. To help tailor your resume, you should read the job description and customize your work experience to relate to what the job description entails. Always be sure to proofread your resume after making changes.
Know what you would like to say.
Once it is your turn to speak with a recruiter, one of the first things they may ask is "tell me a little bit about yourself." Prepare a quick introduction about your educational background, recent work experience, and what you're looking for. Before attending the virtual career fair, prepare a list of topics or questions you would like to discuss. If you are one to forget things when nervous, type or write down a few bullet points of topics you would like to discuss so that you do not forget to talk about what you wanted to.
Prepare answers to questions recruiters may ask.
Another way to feel more comfortable at virtual career fairs is if you are prepared. Recruiters may ask you questions such as "why are you interested in this position?" or "can you tell me what skills you bring to the table?". You don't want to answer these questions like you're reading off a script. Prepare a few notes to what you think you may say the week or two leading up to the virtual career fair. That way, when you are asked a question, you are prepared with a confident answer.
Always follow-up.
After attending a virtual career fair, follow-up with who you talked to. You could do this by connecting on LinkedIn and by sending an email. Even if you don't think you're the perfect match, recruits will appreciate it if you send a follow-up email or mail a thank-you card. In your follow-up, mention something specific you talked about in the call and thank them for their time. This leaves a great impression and will leave the recruiter feeling like they helped you as well.
Attending virtual job fairs can be stressful but they do not need to be. Follow these quick tips and you'll feel confident in no time.
Looking for a job or internship? GradLeaders offers multiple resources for job seekers including hosting their own virtual career fairs for specific subsets of students and industries. Check out our resources and upcoming event list.
Looking to host your own virtual career fair? Check out GradLeaders virtual event platform.